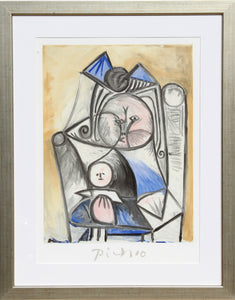 Artist: Pablo Picasso, After, Spanish (1881 - 1973)
Title: Fillette a la Poupee, 36-3-k
Year of Original Artwork: of original 1947
Medium: Lithograph
Edition: 1000
Size: 29 in. x 22 in. (73.66 cm x 55.88 cm)
Frame Size: 34 x 27 inches
Year of Publication: 1979 - 1982
Printer: Laurent Marcel Salinas
Publisher: Estate of Picasso (Marina Picasso) with Estate-approved Picasso signature printed below image. It also has in typeset under image, 'Collection Marina Picasso' and the copyright info in typeset right of image.