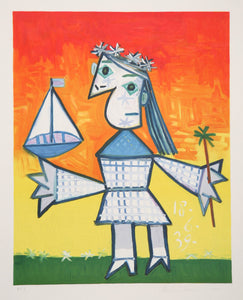 Pablo Picasso (After), Spanish (1881–1973)
Fillette Couronee au Bateau
Portfolio: Marina Picasso Estate Lithograph Collection
Date: of Original: 1939 | Year Printed: 1979-1982
Lithograph on Arches Paper
Edition of 500, 34 AP's
Image Size: 22.5 x 18 inches
Size: 29 in. x 22 in. (73.66 cm x 55.88 cm)
Printer: Laurent Marcel Salinas (Chromist)
Publisher: Jackie Fine Arts in conjunction with Marina Picasso
Reference: 1-B
 
Carrying a toy boat and flower in her hands, the little girl in Pablo Picasso's print wears a flower crown and a white plaid dress. Standing in front of the viewer, her figure is marked by abrupt angles and changing forms, highlighting the artist's ability to generate multiple perspectives and shapes. Estate of Picasso, (Marina Picasso) pencil signature and embossed blindstamp lower right. Ink stamp verso 'Approved by the heirs of Pablo Picasso'.