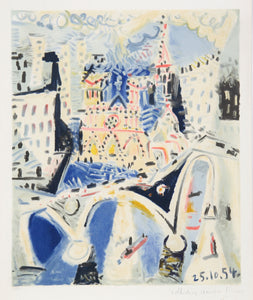 Pablo Picasso (After), Spanish (1881–1973)
Notre Dame
Portfolio: Marina Picasso Estate Collection
Date: of Original: 1954 | Year Printed: 1979-1982
Lithograph on Arches Paper
Edition of 500, 34 AP's
Size: 29 in. x 22 in. (73.66 cm x 55.88 cm)
Printer: Laurent Marcel Salinas (Chromist)
Publisher: Jackie Fine Art in Conjunction with Marina Picasso
Reference: 16-D
 
Looking out over the Seine and a bridge running across it, Pablo Picasso's view of the famed Notre Dame de Paris is filled with light, airy buildings layered in front of one another. Easily identifiable by its legendary Rose Window, the cathedral is depicted in its entirety prior to the 2019 fire that destroyed the nineteenth-century spire and part of the roof. Estate of Picasso, (Marina Picasso) pencil signature and embossed blindstamp lower right. Ink stamp verso 'Approved by the heirs of Pablo Picasso'.