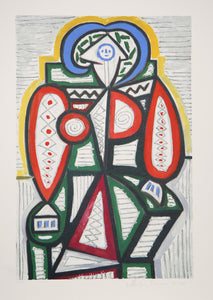 Pablo Picasso (After), Spanish (1881–1973)
Femme Assise
Portfolio: Marina Picasso Estate Lithograph Collection
Date: of Original: 1947 | Year Printed: 1979-1982
Lithograph on Arches Paper
Edition of 500, 34 AP's
Size: 29 in. x 22 in. (73.66 cm x 55.88 cm)
Printer: Laurent Marcel Salinas (Chromist)
Publisher: Jackie Fine Arts in conjunction with Marina Picasso
Reference: 25-10
This highly-geometric print by Pablo Picasso depicts a seated woman with only a few shapes, lines, and colors. Relying on rectangular shapes and curving lines, the artist renders the woman in an abstracted and fragmented manner. Estate of Picasso, (Marina Picasso) pencil signature and embossed blindstamp lower right. Ink stamp verso 'Approved by the heirs of Pablo Picasso'.