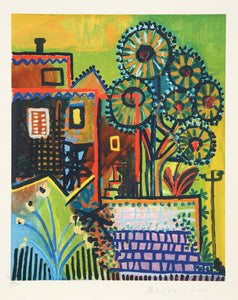 Pablo Picasso (After), Spanish (1881–1973)
Paysage
Portfolio: Marina Picasso Estate Lithograph Collection
Date: of Original: 1937 | Year Printed: 1979-1982
Lithograph on Arches Paper
Edition of 500, 34 AP's
Size: 29 in. x 22 in. (73.66 cm x 55.88 cm)
Printer: Laurent Marcel Salinas (Chromist)
Publisher: Jackie Fine Arts in Conjunction with Marina Picasso
Reference: 8-D

In this colorful print, Pablo Picasso depicts a series of buildings framed by trees, shrubbery, and sidewalks. Rendered in his authentic Cubist style, the work features varying perspectives and viewpoints all colored in bright yellows, blues, and greens, with pops of red and brown. Estate of Picasso, (Marina Picasso) pencil signature and embossed blindstamp lower right. Ink stamp verso 'Approved by the heirs of Pablo Picasso'.